About
When you sign up for Paperspace, there are limits to the number of items you can have in your account.
Service Limits are visible on Team Settings>Billing.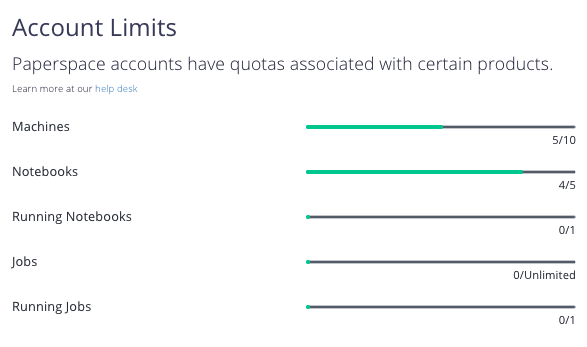 If you need to increase a Service Limit, please submit a support ticket and select Service Limits Increase from the drop-down. Please tell us a little about how you're using Paperspace and how many machines you require so we can process your request effectively.
List of items governed by Service Limits
Machine Limits
Individual users and Team accounts are limited to 5 machines.
API Calls
The default limit is 6,000.
Gradient° Limits
Gradient° limits are based on your Gradient° subscription level. Visit the Account Settings section in your Console to view your subscription.
Gradient° 0 Subscription (default)
1 Concurrent Job
10 Notebooks
1 Concurrent Notebook
Gradient° 1 Subscription
5 Concurrent Job
25 Notebooks
5 Concurrent Notebook
More Gradient° subscription info can be found here.